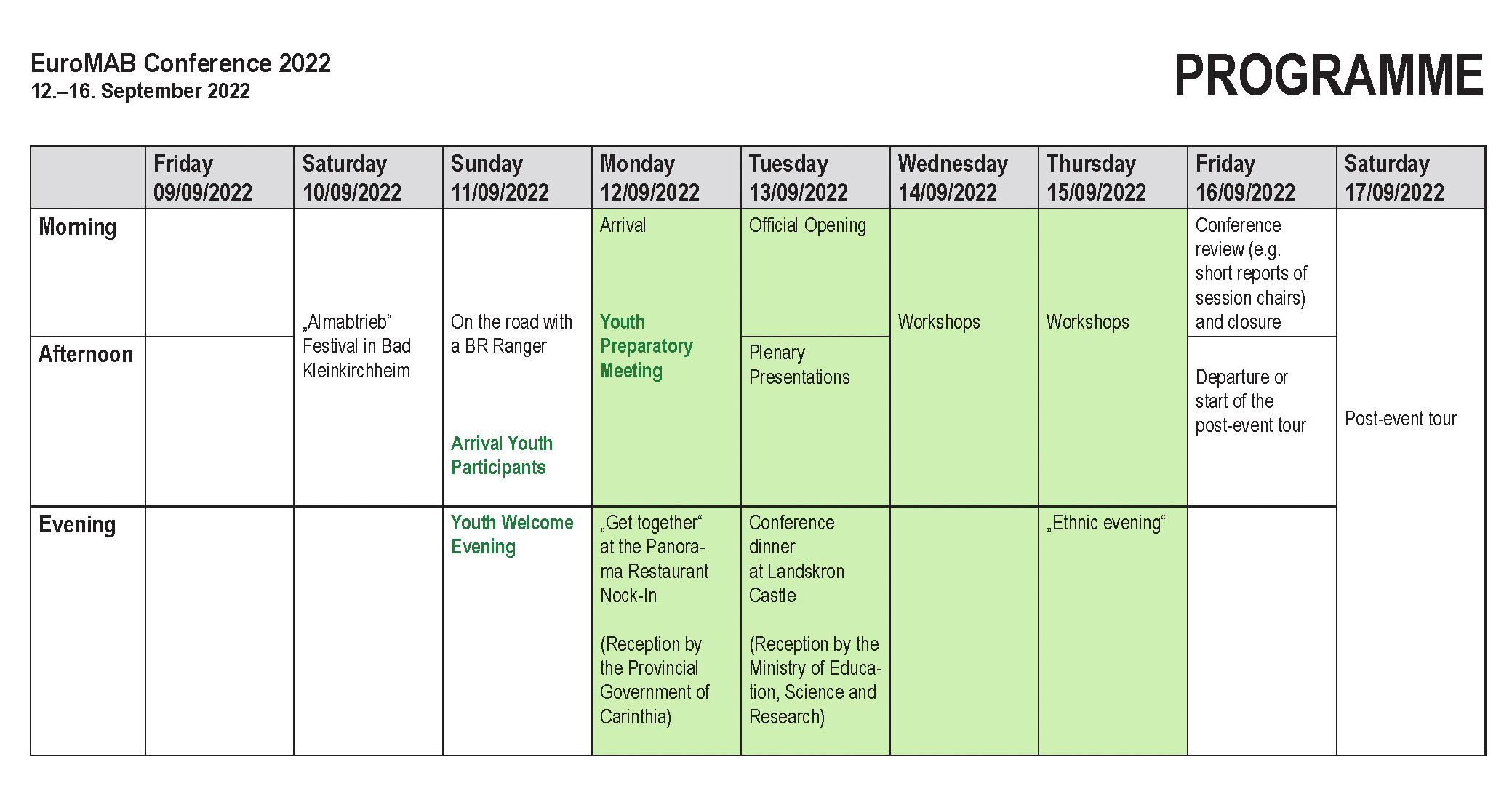 Fri 09/09/2022 to Sun 11/09/2022: Possibility of an earlier arrival with participation in different social programmes, e.g.
"Almabtrieb" Festival in Bad Kleinkirchheim: ceremonial driving down of cattle and sheep from the mountain pastures into the valley in autumn
On the road with the BR Ranger: hiking, mountain biking
Visits of different regional events
Sun 11/09/2022: Arrival Youth Participants and Youth Welcome Evening: Get together
Mon 12/09/2022: EuroMab 2022 Youth Preparatory Meeting (For Youth Participants only!)
Mon 12/09/2022 to Fri 16/09/2022: EuroMab 2022 according to the Conference Program: About half of the workshops will be organised as excursions connected to a regional example of implementation. All other workshops will be held at the conference venue.
Fri 16/09/2022 & Sat 17/09/2022: During the Post-conference tour "Follow the Alpe-Adria-Trail to our neigbours" (Julian Alps BR, Italy and Slovenia) you have the chance to visit our southern friends and partners, e.g. Triglav National Park (Slovenia), BR Prealpe Giulie (Italy) BR/WHS Škocjan Caves (Slovenia).
In order to present all Austrian Biosphere Reserves at the conference, we plan to place exhibition stands of the BRs in the hotels where the participants are accommodated (similar to the Winter Olympic Games "Austria House"). Cultural presentations and tastings would then attract visitors!
Additional Comments
Involving young people is a major concern of the Austrian Commission for UNESCO and thus a special budget a youth event has been organised. We plan to intensify the involvement of young people by involving them as discussion partners in all plenary sessions and workshops and giving them the opportunity to present their views and opinions. Furthermore, we would like to set a plenary event dedicated to "Youth involvement" to be planned, organized and moderated by young people. We will also give them the opportunity to present a follow-up report of the conference from their point of view. For further information see attached Youth Programme!
We feel committed to an ecological event. As already stated at the EuroMAB 2022 website we will organize an environmentally friendly and resource-saving event with short walkable distances, waste prevention and regional culinary and cultural delights.
As already stated at the EuroMAB 2022 website we will involve people and businesses from the region as well as BRs from neighbouring countries. We will offer all Biosphere Reserves willing to present themselves a stage for the entire duration of the conference.
The year 2022 marks the 50th Anniversary of the establishment of the Austrian MAB National Committee. In order to celebrate this event the Austrian Federal Ministry of Education, Science and Research will host the Conference Dinner at Landskron Castle.